Competition between social media giants Facebook and Twitter has been an interesting trend to monitor. Both try to supersede each other by either launching new features or by awards. Few weeks back, Facebook introduced few new features – "Subscribe Button", "People Talking About", "Smart Friend List" as well as "Advanced News Feed". Where as Twitter came up with – "Five Languages Tweet", "Tweet Speaker", "Apple's iOS5". Also, it has been only 2 days for Twitter  to toppled over Facebook  as "Best Social Networking Site of 2011" – in an Award Ceremony, organized by T3.
A Recent study by Localytics states that 20% of mobile Apps have either Facebook or Twitter amalgamation. However, maximum online publishers have chosen Facebook as preferred social media integration above than Twitter.
It was concluded that 10 out of these 20 percent developers are connected with Facebook, 9 percent connect to both Facebook and Twitter where as only 1 percent is directly connected to Twitter.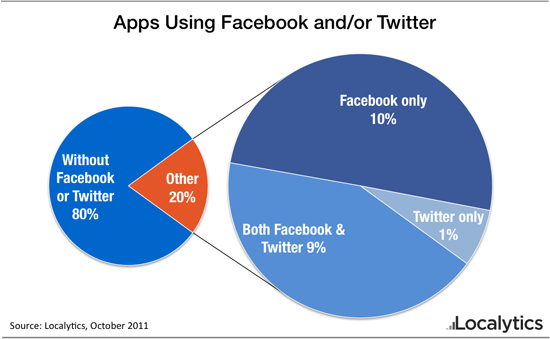 Sharing events (defined as sharing, liking or following) on Facebook is twice than  Twitter due to user counts. Facebook has more than 800 million users compared to Twitter's 200 million.
But when it comes to traffic referral from social media, Twitter users topple over Facebook as Twitter users drives three times more traffic on an average than Facebook users.
Whereas In event generation, Twitter generates 50 events per 1,000 users as compared to Facebook 11 events per 1,000 users.
This shows that how Twitter is slowly gearing up for head-to-head with Facebook in actual traffic generation. It would be interesting to make a remark that a huge number of users on any social networking sites are marketers and handles the networks only for content reference and marketing. Despite of being low on number of users, Twitter still holds the bow to kill.
The Study was conducted on thousands of Android, iPhone, iPad, Blackberry and Windows Phone 7 apps. In addition several videos, articles, Facebook likes as well as Tweets were also taken in view to make date more accurate. Moe than 500 active users were approached to conduct the study between January 2011 to July 2011.
Hope we will come across these type of competition more and more in coming days.
Readers what's your views?