Online business is widening its feet in India and with launch of many new online promotional products in market its on hike. Purchasing powering of online users is constantly rising. As internet market widens, number of online daily deal companies are also increasing. Few months earlier, online daily deal giant GroupOn debuted in India daily deal market by acquiring SoSasta.com. However, due to immense competition and various management issues, it failed to recreate the charm like USA. Today – to re-energize indian operations –  GroupOn has announced re-branding to its India business from Sosasta.com to Crazeal.com.
Earlier, GroupOn acquired Sosasta.com to test the Indian water. Simultaneously, company also triggered the process to control Groupon.in which is registered by some other indian company. GroupOn's online business deals with best stuff to do, see, eat as well as electronics gadgets. It's spread in more that 565 cities across the world.
At present in India, GroupOn online deal services will be available only in 11 cities named as Ahmedabad, Bangalore, Chandigarh, Chennai, Delhi/NCR, Hyderabad, Jaipur, Kolkata, Mumbai, Nagpur and Pune.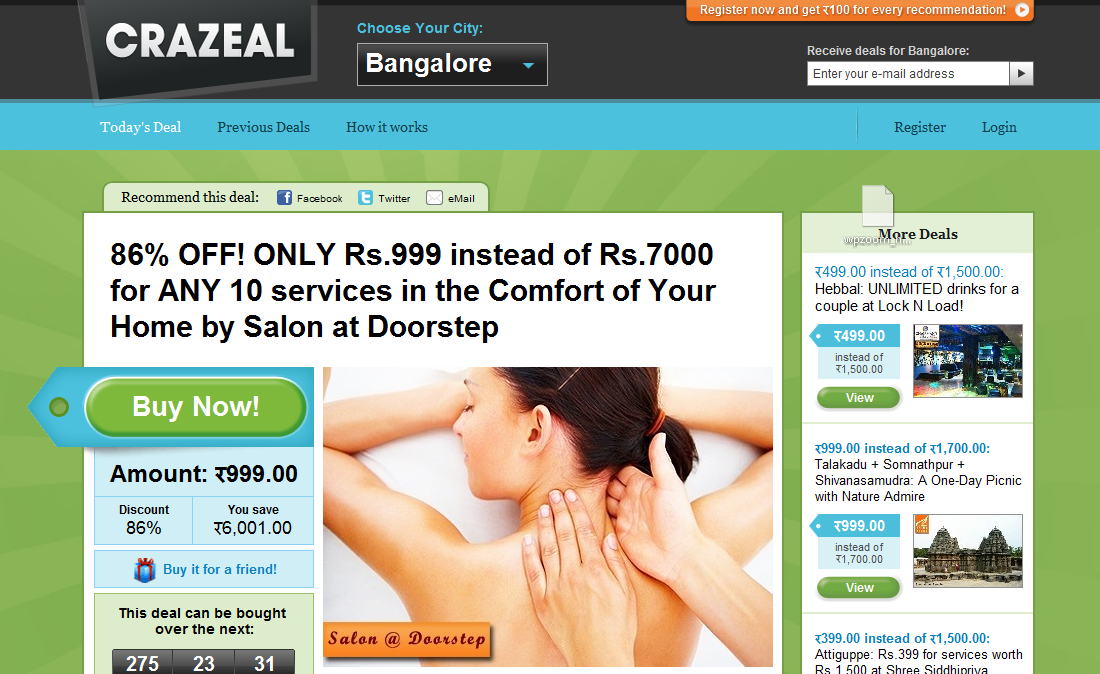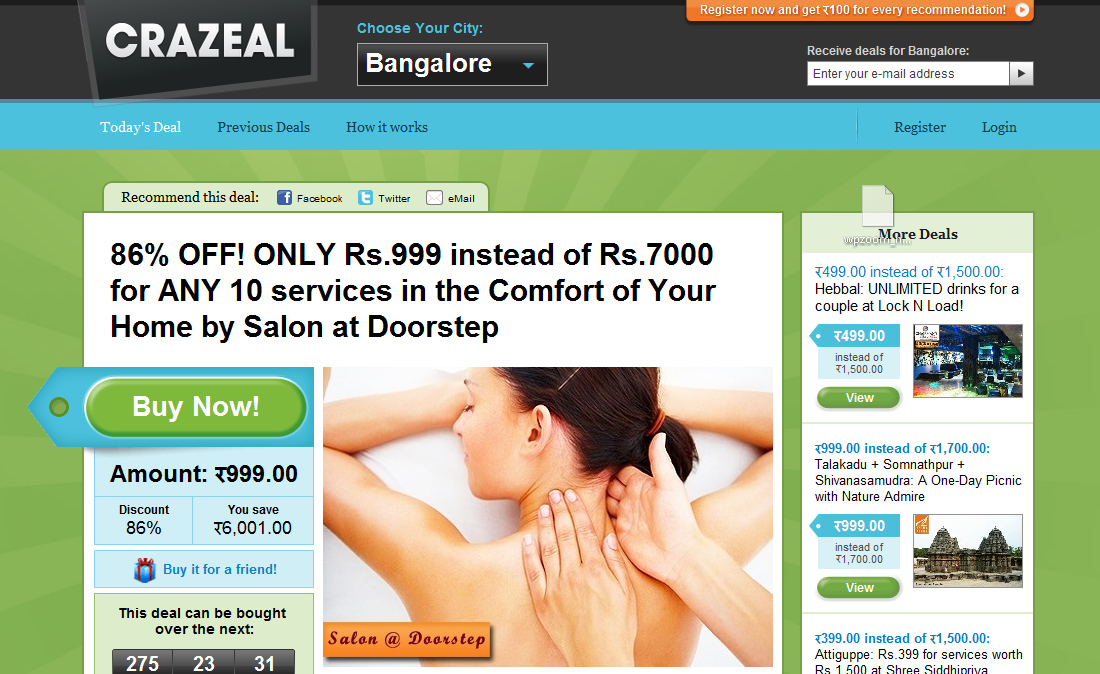 To avoid pre-claimed mistakes, Company has brought several changes in Crazeal management. Earlier Managing Director as well as CEO of SoSasta.com has been stucked out and there are fresh faces into its management. GroupOn has named Ankur Warikoo- an ISB alumuni – as new CEO of Crazeal, Bharath Devanathan as COO, and Sachin Kapur as head of Marketing. Ankur Warikoo is the co-founder of Accentium Web and has already served as an Entrepreneur-in-Residence at Rocket Internet (the early investor  in CityDeal, which was acquired by Groupon in May 2010), where as Bharath Devanathan worked at Yahoo and Booz company and Sachin Kapur has worked at Brands like BigRock(a directi company), Fever 104 FM, and InfoEdge India Ltd.
"Groupon Inc's DNA is intrinsic to Crazeal.com and we know what it takes to be the leader in this industry. Having pioneered the online deal industry and emerged as the top player in markets around the world we are confident that this is the right time for us to provide the discerning Indian consumer with the Crazeal.com experience" as well as "We are identifying merchants with high quality offerings, expanding to newer cities and above all enabling Social Commerce to help consumers avail of the best that their city has to offer. We are passionate about bringing quality deals to our consumers, and we feature only those deals that we would ourselves love to buy," said Ankur Warikoo, CEO, Crazeal.com.
GroupOn has appointed a core team which consist of six Sales directors in Delhi, Mumbai, Bangalore and Kolkata to strengthen Crazeal presence in market as well as to build the Local Service, National Products and National Travel Verticals.
Interestingly, its been a point to notice that SoSasta.com is still doing active online business with many latest deals in market. One of the most important point is that on Crazeal claims itself a 're-branded' version of SoSaSta.com while SoSasta.com doesn't show any information about GroupOn and its acquisition. Is So Sasta has parted its business from GroupOn as separate entity or is there something else cooking up in daily deal business market. Readers give your views why this kind of confusion arises.