The browser market is slowly heating up again as the new babies are steadily improving their market share only at the cost of Microsoft's Internet explorer. Though, IE still holds the supreme position without any immediate threat, Google's Chrome could possibly displace it soon. Currently, Chrome secures third position after IE and Mozilla. And with 10 percent annual growth, it will take over the position of Firefox sometime in early 2012.
Industry is recording the fastest growth ever of any browser till date. While Microsoft's IE and Firefox are on constant decline, Chrome is the only browser which is advancing among users. For September, Chrome's market share stands to 23 percent compare to Firefox's 27 and industry leader IE's 41 percent.
So, what made Firefox to slips away from users' grip? Probably, the frequent updates, active bug fixes and comparatively slow browsing experience than Chrome. In last few months, Firefox has covered the long way from previous versions to latest version 8. With each version, it left enough room for improvisation and enhancement – picked up with competitors like Chrome. To beat the immense competition, Firefox released multiple updates, updates and enhancements in an interval of every six weeks that kept captivating the eyes of users unlike Chrome which also went through similar enhancement but as background activity.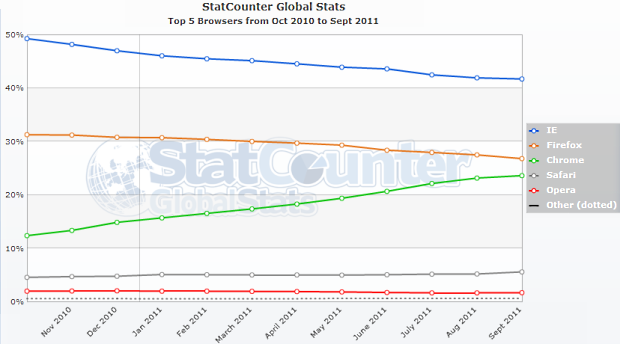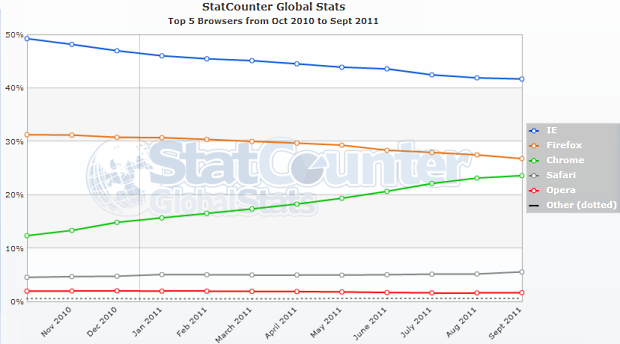 Annoyed Firefox users who find it problematic, especially enterprise users who need administrative assistance for any such upgrade or updates, have started migration towards Chrome as its provides seamless integration with Google services and faster browsing and downloading experience.
However, Firefox is equally monitoring the situation closely and is setting itself on the launch pad of latest 8th version with many new and exciting features like "Don't not Track" on multiple platform. Company has claimed to add 1,000 improvements with the latest version and promises a feature rich superlative browsing experience.
On the hand, Microsoft is also gearing up with the latest IE version 10 to beat the heat. With all such new development and many more still pending improvements and versions, it will be interesting to witness the "Tug of war" among all major browsers.