It's been a point to notice that competition in the I.T. industry is on its peak; not only social media but also in software industry, everywhere, the trend to reach podium has taken place. In social media space Facebook is on the top followed by Twitter and LinkedIn. In software industry, Apple is at top with maximum market valuation followed by Microsoft and IBM. Today a change arises in the list again when IBM (NYSE: IBM) reaches to second spot pulling down Microsoft (NYSE: MSFT) to third place. It is first time since 1996, when IBM market valuation has risen more than Microsoft.
International Business Machine (IBM), founded by Thomas J. Watson at Endicott, New York in 1911; market valuation has reached to $214 billion compared to Microsoft's $213.2 billion. In current fiscal year IBM registered a growth of 22 percent where as Microsoft escalation decreased by 8.8 percent. Still, both IBM and Microsoft are far behind Apple whose market valuation is around $362.1 billion.
The latest valuation has bee recorded after NYSE reported that IBM stocks keeps on rising after 2008: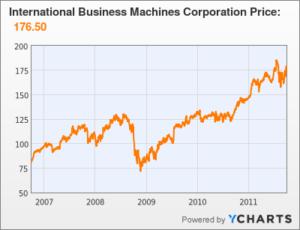 Meanwhile, Microsoft is constantly struggling to maintain its stock are position since 2009 and lost it supreme position to Apple in early this year. Apple has emerged as Most Valuable brand beating Microsoft, IBM and Google.
Lets see how stock market will response to top giants in coming days as many international market is struggling due to slow down. Friends, what's your views in coming years who will be on the second spot IBM or Microsoft