Now I am sure something is cooking up at Facebook – especially when F8 event is just at next corner. After many new features launch in last week, Facebook has revamped the complete News & Event page specially the way news get priorities. Besides, Facebook has also introduced am auto-slider section, just above the friends list, that has the real time recent popular activities from friends.
Through latest News & Event section Facebook is trying to secure higher engagement ratio from its users by serving the most popular updates, News or Feeds at top of the page. Company is rating such updates based upon the number of like, comments and engagement from other users.
The interesting part is, it starts from the news which you left from the last login. However, instead of showing you all news' bluntly from your last logout till now, Facebook displays only the Top Stories of such hours. This allows users to stay updated with the most important shares over the network when he log-in next.
Though, the right side slider is not completely new as it was made available to couple of users earlier in test run for last few weeks, it has been publicly rolled out now.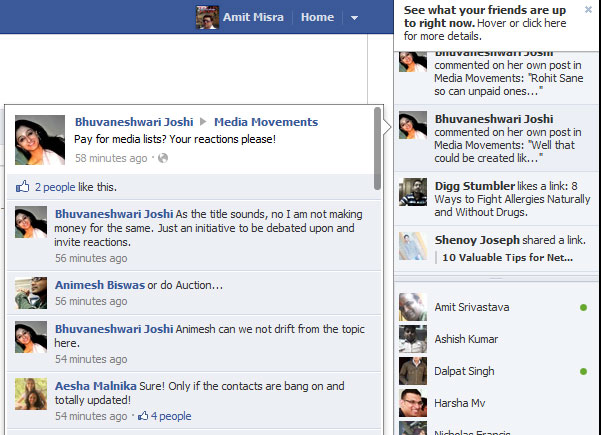 In last couple of weeks almost every major social media platforms have released few new features to heat the competition. Subscribe, Multi Language, API access are few of them which have been introduced in last couple of days from Facebook, Twitter and Google+ subsequently.
However, on the downside of new News & Feed section, status update section is no more a part of the page. People need to go their profile page to update their status or share any link.