At the time when Smartphone is flourishing the mobile market with tens of variants and almost every third user is leaning towards it, there is absolutely no doubt about the promising future of smartphone application market. Companies and independent developers are trying their best to grab the biggest pie of the market and constantly making an effort to come-up with one or other astounding app either for business or personal users who are fascinated towards such applications.
Following the trend, this new cool app –launched recently – allows you to have visual communication in form of "doodles" with your friends or group just by twisting your finger on you smartphone screen and converting it in a portrait. Interestingly, it all happens in real-time.
ScribeAir – as the application has been named – is an intelligent form of communicator app that can be used to share the real-time hand-drawn visual on your smartphone with the screen of your friends' smartphones. With the help of ScribeAir, users can virtually transform their smartphone in a digital white board to have group presentation, real-time gaming with friends or allows users to draw the hand-art and share with their friends in real-time or through internet.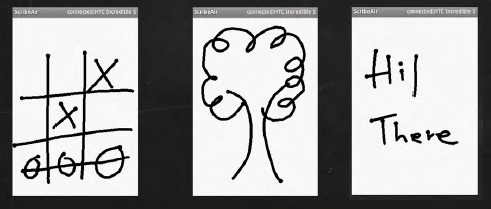 The application has omitted the little complicated process of 'clicking and sharing' with friends through itchy network or through battery draining Wi-Fi. This could also be a useful tool in personal relationship when you want to give a special feel to your loved one effectively but securely.
However, the current version of ScribeAir is limited only with Android users and communicates via Bluetooth. However, the road map of the application also includes group communication, cross-platform communication, network independency and enhancement of current drawing platter with feature reach editing options like color picker, saver, Shapes brushes etc.
httpv://www.youtube.com/watch?v=dAGwX4gCxGE
"We are expecting to roll-out with the next version of ScribeAir with many more features by end of this month. Users can understand the significance of the app with their day-to-day life much more effectively once the upcoming version will be available in the Android Marketplace" says Harsha Mv, CEO of ScribeAir.
It would be fun to have this application if you have an Android phone just to enjoy the different way of real-time communication with your other Android friends.
You can download this app with the help of below QR Code
Alternatively, you can visit this link of Android Marketplace to download ScribeAir