Are you frustrated with those mind twisting racing simulations, then now is the time to relax yourself through, out of the league, racing stuff from gaming giant 'KONAMI' and 'Polarbit'. Krazy Kart Racing is available  for Android,Windows Mobile and iPhone and is packed with lots of cool animations and crazy gameplay. KONAMI is well known in gaming industry for their arcade games and Polarbit had already proved their worth by developing games like 'Reckless Racing' on android platform, so gamers can expect much better level of graphics and visual effects.
 Krazy Kart Racing has a touch of humor which makes it really addictive while playing. Its Gameplay and Graphics will definetly make you think of one of the most popular games of Sony PSone i.e Crash Team Racing developed by 'Naughty Dog'. Though sound effects are not upto that level which is the only drawback in this game otherwise it would have been awsome. Some snapshots of the game are given blow.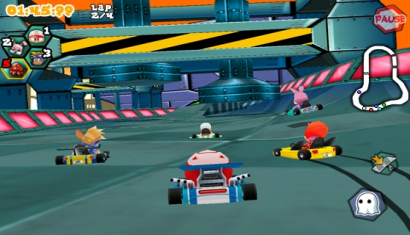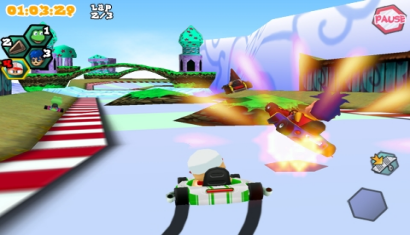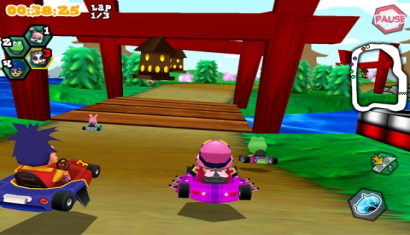 Gamers can choose between three different play modes which are Quick Race,Single Player, Multiplayer. Quick race is to directly dive into action with prior selected character and track. In Single Player Mode, according to mood, gamers can select between Krazy GP,Trials,Free Run, Time Attack and Mini Battle. Game features twelve well known KONAMI characters in 3D like Sparkster, Frogger, Robbie Rabbit etc and one can choose them according to their character's racing abilities.
Gamers can entertain themselves and test their gaming skills on 16 different adrenalising tracks and have to use shortcuts too. Best feature in this game is the use of power-ups while racing. Gamers need to utilise different type of power-ups like nitro boost,missiles etc. for getting ahead. One of the only drawback in this game is the sound effect. Lack of sound effects doesn't let you know that which character struck you in the race which is really annoying. Here's a video for you people to check out.
httpv://www.youtube.com/watch?v=MDqp51FQv_g
Overall this game worths a try. It has won Operator's Choice Award at the 6th International Mobile Gaming Awards. So if you want some cool refreshment then you can download it here for windows mobile OS.  iPhone owners can download the game from here .