I still remember days when first ever gigantic mobile phone was launched and few lucky people who used to own that felt blessed to speak on "cell phone". After one and a half decade, the priority and usability of mobile phones has been drastically shifted from "traditional use" to "advanced need". Expectation from phone have gone up and people are becoming more Smartphone centric than ever before. Consequently, with more usage of Smartphone and connected devices like iPad, dependency over mobile applications has become obligatory.
In the new developed scenario, mobile apps are responsible for 56% of overall smartphone activity, according to Neilson. However, the most important aspect of owning any phone – making phone calls – has been an additional facility in a Smartphone, study reveals.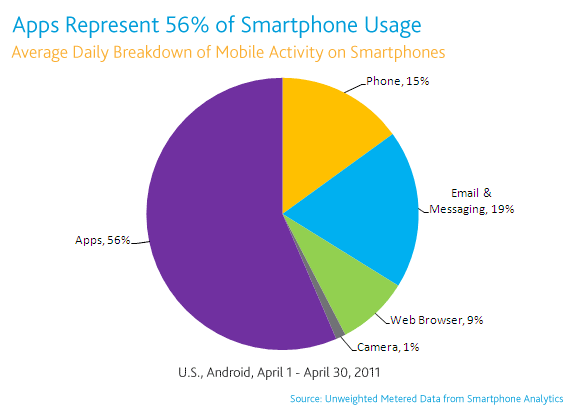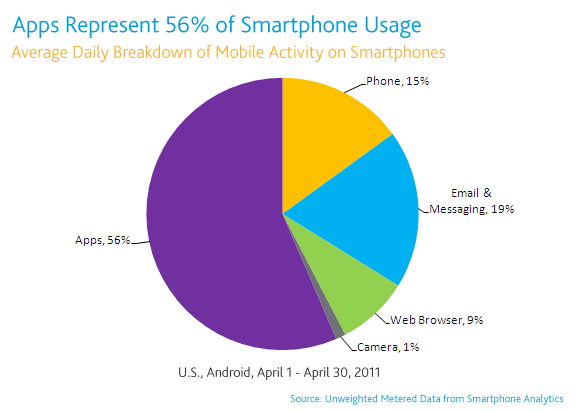 Smartphone users are more spellbound towards mobile apps and 56% of their daily mobile activities have been recorded through such apps. The interaction and usage of Email and Messaging service has been declined to 19%, followed by the real traditional use that remains just 15%.
However, the trend is mainly driven by branded apps and unbranded apps literally need to go trough stiff competition to have some a place in Smartphones. The adoption rate of branded rate is quite higher and the discovery method of unbranded apps by users is completely different.
This has also sugared the data usage and application need of Smartphone users. Both Android and iPhone users are becoming more data hungry than before. Currently, there are more than 900,000 unique apps available for mobile devices out of which Apple control more than 381,000 apps alone, beating Android with 294,000 apps. There are many speculations that due to enormous growth of Android platform these figures may change by August when overall Android app count will beat App store.