Recently Twitter has made few "imperative" changes in its API policy and "warned" developers to stay out of competition of challenging Twitter through various Twitter client application development. Though, Twitter did took few steps against couple of such apps by blocking their access to their network, they advised companies to focus more on insights, date and vertical to have significant contribution in Twitter ecosystem.
However, Twitter's platform lead Ryan Sarver has claimed that despite of existence of many Twitter client app, some 90% of Twitter users still use company's official Twitter apps on monthly basis to access the service.
Ryan writes "We need to move to a less fragmented world, where every user can experience Twitter in a consistent way.  This is already happening organically – the number and market share of consumer client apps that are not owned or operated by Twitter has been shrinking,"
Surprisingly, as per latest analysis on Twitter client apps market share by Sysomos 42% of users are still using non-official Twitter apps like TweetDeck, Twitdryod etc. So why is there a huge disconnect between Twitter official claim and Sysomos analysis ? Or shall we understand that such statement from twitter is a result of Anxiousness towards significant market value of non-official Twitter client apps.
Twitter Revenue Model
Twitter's major source of revenue comes from the "promoted tweets" and "sponsored accounts" on which company is focused from last 6 months. However, "sponsored accounts" are getting much more traction among users compare to "promoted tweets". To strengthen its revenue model further – like other social networking titan Facebook – Twitter may adopt the online advertisement model across all platforms.
However, both revenue models – promoted accounts and online advertisement – will only pay back to company if large user base will be committed to access services through Twitter's official client apps which doesn't seem to be much responsive in current ratio of user base.
Consequently, to amplify the user base towards official apps twitter has, apparently, adopted the route to discourage developers to compete with Twitter on client app ecosystem.
Users Are Fascinated Towards Non-Official Twitter Client Apps
Twitter users across the globe have pegged with diversified devices to access twitter. Pc users have choice in OS, mobile users in mobile platforms and tablet users in Tablet OS. For any company it's very difficult to satisfy all set of users by single or limited type of apps. Therefore, there are many developers who have launched the client app specific for device like Android, WP7, Symbian or traditional OS. The performance of such apps is much more superior than Twitter's official app on due to core compatibility with specific set of device it meant for.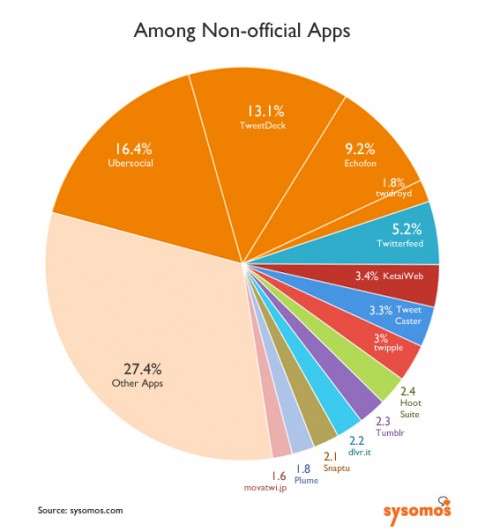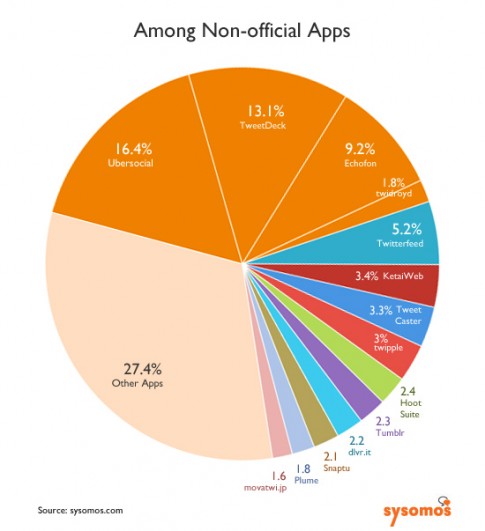 Therefore, users has got multiple options to pick and choose the twitter client application which suits best for their devices and with such selection users are unintentionally squeezing the market share of Twitter's official apps.
Disconnect Between Sysomos and Twitter Official Claim
For many people it's difficult to digest the huge gap between Twitter's official claim of 90% and Sysomos's  58% user base with official client apps. Why such ambiguity? Here's how the gap can be explained. Twitter's number focus on the total number of user's while Sysomos analysis is based on total tweets. It means there may be many Twitter "official" users who are not very active.