After a magnificent performance in 2010 and an astonishing start of 2011 with $50 billion valuation, apparently, this may be the first time when Facebook has faced an awful situation when Facebook Fan Page of Mark Zuckerberg – Co-Founder & CEO, got hacked this morning. Surprisingly, the hacker has left a message; rather we would call it as an interesting suggestion, for Facebook Management to transform the company into a "social business".
Though the message seemingly posted on Facebook from Mark Zuckerberg's account, was quickly removed (together with the fan page), but it was not quick enough for many sources and users to go by unnoticed, receiving more than 1,800 "likes" and hundreds of comments in the process.
The message goes like this: "Let the hacking begin: If Facebook needs money, instead of going to the banks, why doesn't Facebook let its users invest in Facebook in a social way? Why not transform Facebook into a 'social business' the way Nobel Prize winner Muhammad Yunus described it? [LINK] What do you think? #hackercup2011″
Later Facebook has managed to get rid off such posts on Mark Zuckerberg's Facebook Page and its back with the original postings from Mark.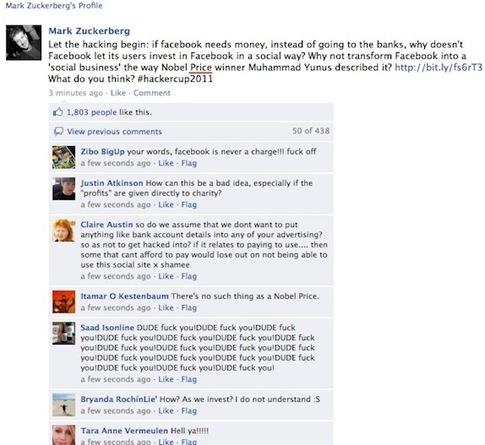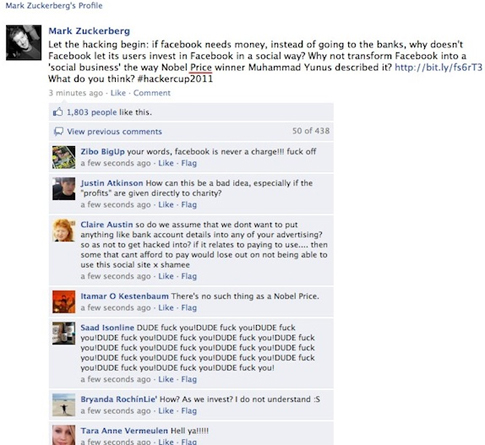 However, Facebook has decided to take the escape route and avoided any release or comment against such hacking. But that is not going to silence analysts who have already pointed fingers on Facebook security system many times earlier. Certainly, the discussion topic on the table is very vital and if company's policy maker and founder can't keep his own property safe then who else?
The biggest challenge here is the faith of millions of business who are riding high with the invincible marketing potential of Facebook pages with millions of fans. The risk is getting transform on commercial Facebook page owners who have substantial impact on their business due to Facebook pages marketing community.
Also, the new successful hacking attempt has exposed the security level of 500+ millions of people who are spending and avg 4-5 hours every day on Facebook and maintains lots of their personal information on social networking titan.
May be Facebook come up with some sort of excuse or reason in next couple of days or hours but unfortunately the latest hacking has done the damages especially when Facebook is under tremendous pressure to for Initial Public Offer ( I.P.O.). This has also thrown the same old question to millions of users – Should Facebook be convicted for such security leaks or Will Facebook ever understand its moral responsibilities towards personal information security being as the virtual online owner of 10% population of the whole planet? We are leaving on you to comment and Facebook to revert back !