Apple has another reason to cheer. Apple App store is close to 10 billion download mark and company s in no mood to pass away the moment just like that. Apple has announced a grand price of $10,000 of iTunes balance for ten billionth download and, needless to say, whole organization is waiting to dive into the celebration pool, the moment magical number ticks.
Last few years have been magnificent for the company. Around the same time last year, ten billionth iTune was served up. In yearly 2009, Apple was rising high its latest version of flagship product – iPhone 4. In April 2009, Apple App store touched the one billion download mark and in just one and half year, company has folded the download almost ten times more to reach ten billion download marks.
Though, it's still uncertain whether these numbers also carry the updates, free and duplicate application downloads. However, it the big moment is very fascinated for all developers who have significant contribution for making Apple app store a success.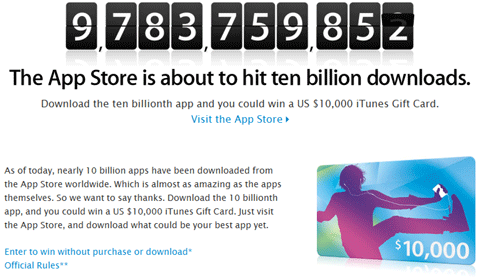 One main reason behind Apple's enormous success of App store is the extensive exposure of iPad. Undoubtedly, it has helped apple to engage more developers and increase download frequency and, apparently, it will not take much time to recreate the charm of doubling this ten billion app download in less than year from now.
Interestingly, App Store is counting around 300 application downloads each second and with such gears, the cherish moment is not too far from celebration.