Google is unlocking more than 200K Android mobiles everyday and steadily growing to secure top spot in global mobile handset market. Being as an open platform, Android mobile OS has benefited various independent developers and start-ups by providing an opportunity to be a part of upcoming $35 billion app market. This has also raised the bar of technology and intelligence criteria of application which are the prime aspects of any Android users these days.
Among 11 million mobile applications, currently available globally, there are few astounding applications which inherit the sense of human needs, habits & behavior besides productivity. Even such application blend is so multifaceted that charting a list of top applications is a daunting task for many.
However, we have hand-picked some of the free multi-flavored applications which are much appreciated by Android users community and surely deserve a place in your recently bought Android mobile phone.
Barcode Scanner for Android 3.52
Out of many bar code scanner applications available for Android mobile phone, Barcode Scanner is one of the best choices to have it in your mobile. Tough, this application clearly justices its need to scan the QR codes in order to install an android application for first time users, capability of reading the bar code on retail products and fetching relative product information through mobile internet gives an added advantage of having this applications on your mobile.
Download Link: Click Here

Twidroyd for Productive Control over Tweets
One of the incredible Twitter mobile applications – That's all I can say for Twidroyd. A great user interface, lighter mobile resource consumption and tons of customization settings make this Twitter application stand much above than any other Twitter app for an Android phone.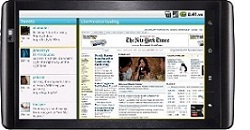 But one thing that makes me so fascinated towards this app is a feature of "Live Preview"
"Live Preview" allows you to view the page link of any tweet side-by-side when you just turn your phone in horizontal direction. This way you really never loose your focus on tweets and can actually preview the content of each and each link page on a fly. Surprisingly, being as one of the major marketing source for business, Twitter still misses this option.
Download Link: Click Here

FxCamera for Enhanced Click Experience
Ok. So you just have just opted the entry level Android phone with 3.0 or 3.2 megapixel camera and want to experience some excellent click results like 5 megapixel?
There is no reason to disappoint when FxCamera, a free android application, is ready to sit inside your phone. The fun, free app contains a set of filters that simulate photo treatment from a Polaroid or toy camera effect to a Warholesque snap. Autofocus helps keep photos sharp, and a sharing feature helps spread the word. Of course, we'd like to see more filters, and we wish that FxCamera–like every other camera app of its kind–also rolled in some basic editing tools.
Download Link: Click Here

Swype for Intelligent & Rapid Typing
Swype, by far the best on-screen input method for Android phones, is yet again available for the users to download. Though, the much appreciated swipe typing application is currently available in its beta version but it adds the swiping facility to your Android keyboard.
Once installed and configured (intelligently) in your Android phone, Swype application enhances your typing experience to a greater extent.
So if you are among those users who have this superior but missing feature in your Android phone, this application is surely going to charm you toward mobile typing. This application is generally not available for open download always. From December 22nd Company has stimulated the registration for Free download of Swype. Unfortunately, we have no idea till how long such free-registration facility is going to remain intact.
Download Link: Click Here

Advanced Task Killer
Many Android users have found the absence of "close" button in Android OS much surprising. Assumptions are there that if users return to home page or jump to another application, previous app automatically shuts down. However, this may not be the case for many application and resources always get consumed by such non-welcome processes. The biggest challenge for Android mobile users is to have improved battery performance while having real-time-sync with internet services like Facebook, Twitter, emails etc.
Advanced Task Killer helps you to achieve much more from your battery as expected and allows you to rely for long on your android mobile phone. It exposes the apps which run on start-up without your knowledge and will kill the sessions which you no longer wish to sustain.
Download Link: Click Here