Holidays are ahead and if you are still struggling to please your kids then here is help. As per the industry's one of the leading research firm "The Nielsonwire", one in every three kids is expecting the red-hot 9.7 inch touch gadget – Indeed and iPad.
As per the latest survey kids aged between 6 -12 years, exorbitant 31 percent of them are looking further to buy an iPad in this holiday season. Even better, if they can manage to get hold of iPad through gifts from any of their relatives (obviously parents) , kids told to research team.
However, iPad is not the only gadget which is in radar of kids this holiday & festival season. iPad demand is followed by computer, iPod Touch, Nintendo DS and Play Station as top 5 expected gadgets. About one in every four kids are expecting to have their hands on Nintendo DS which is much higher than the demand of Microsoft Xbox 360 for which only 12% kids are betting this season.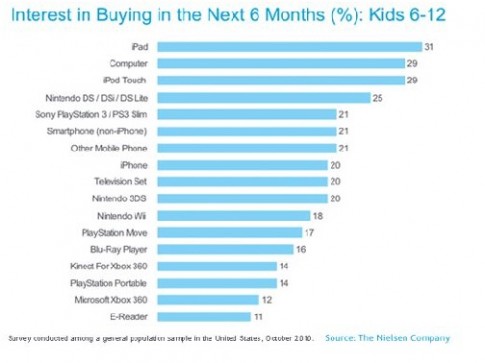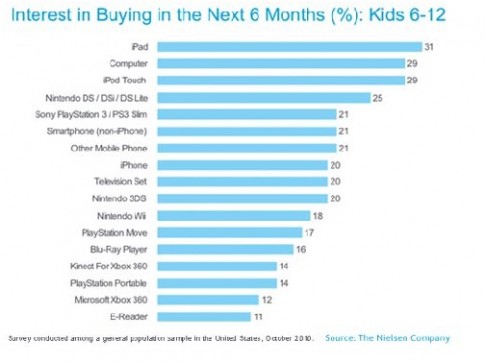 Interestingly, iPod touch beats Smartphone expectations and in-turn Smartphone marginally beats iPhone among kids. Every 1 kid among three is looking to be a proud owner of iPod Touch against one in five for smartphone & iPhone.
Apparently, games are one of the most desirable gadget among the kids and E-Reader attracts the least number of kids in this holiday season.
What Young People are betting this season?
Survey has also covered young people ( 13+) about their expectations for gadgets in next six months. Results shows much mature buying mindsets as graph goes up side down. Games are at least priority among the young kids.
In the era of computing, expectation to own a new computer is highest priority. One in every five youngster are expecting to own a computer. Almost the same numbers applied for Television sets and smartphones. Against one in every three kids, One in every six youngsters give importance to own an iPad.
Amazingly, the demand of iPhone could spark a good charm among youngsters this season. Despite of huge sales figures and demand, only one of every eight youngsters is planning to go for iPhone.  Even the demand of E-Reader exceeds iPhone where one in every seven youngsters is expecting to roll its fingers on various E-Reader.
By all the scenarios one major aspect which twinkles the eyes – More than 80% kids and 43% youngster are leaning towards Apple products – be it iPad, iPod, iPhone or some share of Mac computers. I am sure Apple will be closely monitoring its figure and would be gearing up for a grand party following to enormous sales figures this holiday season.