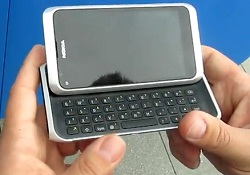 The brand wagon of Nokia seems to carry many more exponential personal & business mobile phones and moving quickly to cut down constant growing challenges from competitors. After initial review of Nokia's E7, an upcoming business Smartphone, here is a real-time Video which demos features and functionality of Nokia E7.
Just few weeks back, we had initial review of upcoming Nokia N8 and Nokia E7 which company is launching against iPhone 4, Samsung Galaxy S and Sony Ericsson Xperia X10i. After the new CEO took charge, this will be company's first major mobile phone launch. While the pre booking counters has been open for customer to grab N8, Dazeinfo tried to check the value worth of N8 against Samsung GalaxyS and Sony Ericsson Xperia X10i and the results were really not so impressive for N8.
Just like N8, Nokia is betting equally on upcoming business phone Nokia E7, date has yet not been finalized for sales kick off, which carries almost similar technical specifications of N8 with slightly bigger screen, additional QWERTY keypad few little tweaking here and there. Compare to 3.5 inch N8 AMOLED screen, Nokia E7 has four-inch AMOLED screen. Besides touch screen keypad, E7 also has additional QWERTY keypad with slider. Like N8, E7 is also running on new Symbian 3 platform. On the storage side, E7 has built-in 16 GB non-expandable internal memory. However, E7 has got USB-on-go by which you can connect your USB pen drive or any external USB storage media with the phone and use all the data stored in external storage device instantly. Unlike N8 which has 12 mega pixel camera, company has downgraded the Camera with 8 mega pixel.
After a great analysis of E7 and N8, Dazeinfo had given all its views, reviews and thoughts in earlier posts. Now it's time for you to understand the real potential of E7 and decide whether it could be your next business smartphone. To help you on this, we have got a real time video Demo for Nokia E7 which talks displays its functionality and features in real time:
httpv://www.youtube.com/watch?v=k549iMx3YHM
Do let us know your views and feedback in comment section to help our readers for a great pre-buy analysis report.
Video Credit : PhoneArena