It seems that Microsoft is loosing grip over the web surfers who are still cherish with the charm of Internet Explorer. Despite of impressive download figures of Internet Explorer 9.0 Beta, Microsoft's Internet Explorer market share fell below the 50 percent mark globally for the first time, according to an online research firm StatCounter.
As per the StatCounter, IE market share fell to 49.87 percent worldwide in September this year. Firefox ended the month with 31.5 percent market share. Google's Chrome browser surged to 11.54 percent, up from 3.69 percent in September 2009.
StatCounter said that IE's market share came down from 58.3% in September 2009 to 49.87% last September. Such steep fall globally had a lot to do with the European Commission mandating browser choice. In Europe, IE's market share is 40.26 percent, down from 46.44 percent a year ago. In North America, IE has a 52.3 percent market share, followed by Firefox at 27.21 percent and Chrome at 9.87 percent.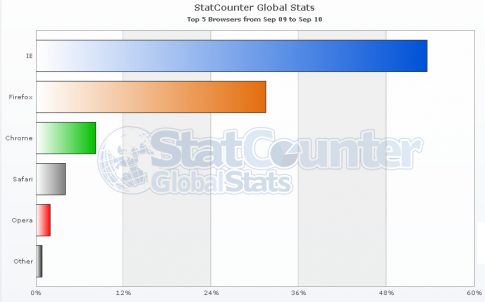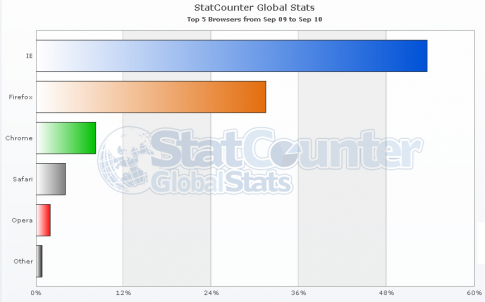 However, another research company Net Applications claims that IE still hold 60% market share globally. As per Net Applications, IE secures its top position followed by Firefox – 22.9%, Chrome – 7.98% and Safari – 5.25% market share globally.
On the other hand Microsoft's IE official Blog claims that company has witnessed 6 million download of IE 9.0 Beta between 15 September and 30 September. As per Net Applications, IE 9.0 Beta accounted 0.29% of browser usage in just 25 days ( till 6 October 2010 ) and the newer versions of Internet Explorer (IE8 and IE9 Beta) experienced an increase in usage share of 0.57%.