Indeed India is one of the most emerging markets for Facebook by all the ways. Constantly, company has put multi level efforts and investments to have substantial impact on Indian people in last couple of years. Most interestingly, in September, Facebook has witnessed positive surge among older users in India as well as abroad.
As per a report from Inside Facebook, users aged 35 to 44 grew by nearly 20 percent in India in September. This excites the company due to sign of Maturity and expansion of Facebook in India beyond its usual stronghold among younger users.
As a tendency of Old age groups, Older users often get enthralled by the moves of teens and young generation and follow them their footmarks – especially when it comes to joining the stuffs like social networking & online presence. Facebook is no exception with the mature markets where users between 55 -65 age group are leading the way in United States, Canada and Argentina.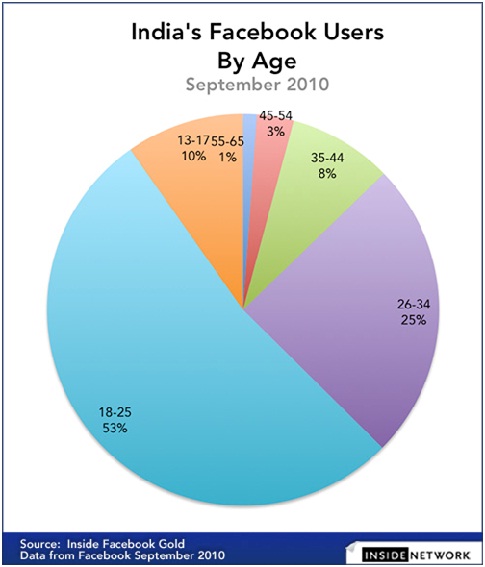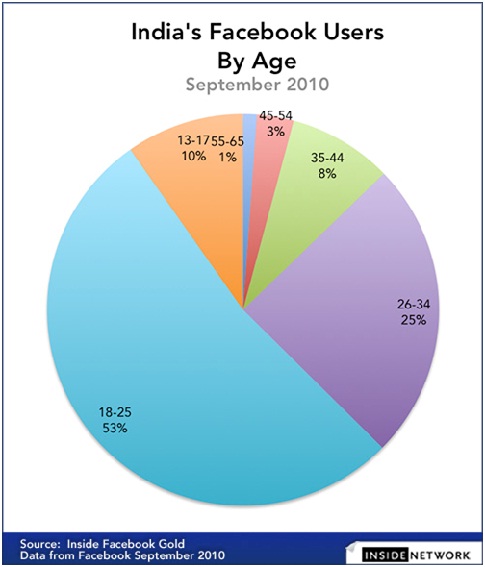 However, Facebook is still driven by young users who enjoy the aroma of tons of features and stands between 18 – 25 age group. Undoubtedly, this young age group holds the vital role in Facebook growth in India as population naturally skews younger.
Facebook Growth in India
Facebook has been grown to 13.5 million users in India alone in September. The 8.7 percent growth is the fastest rate among all 16 of the major markets claimed by Inside Facebook. With more than 1 billion population, Indian economy is still awaiting to reach to the real potential of growth. With such strong future commitment and potential, Indian market has been one of the major focus areas for Facebook. Recent inauguration of the Facebook office in Hyderabad, which started functioning from Thursday 30 September 2010, is a real example of this.
Apparently, India is one of the last major markets where Facebook had lagged a competitor, namely Google's Orkut. Facebook has recently surpassed the Orkut, another the major social networking website in India, by securing more Unique users, according to Google Ad Planner.
However, Indian still has long way to go especially when it comes to Social media. Despite of huge Market potential and reputation as a technology hub across the globe, penetration is still extremely low with the social network reaching just 1.2 percent of the country's 1.1 billion people. According to Economic Times of India, Internet is reaching only to 81 million users across the country and daily active users are further low.
To count in Business scenario, Facebook is slowly gaining reputation and hold among the Indian brands and companies. By launching few business oriented features like Pages and News & Feeds, Facebook is trying its best to hold the control with corporate like Linkedin.
On the other hand Facebook is trying to join the hands with few existing market leaders in India which have substantial reach to Indian customers. Recently Facebook signed a deal with Bharti Airtel in July to bring free access to http://m.facebook.com so local users won't have to use up their credits for logging in to the site. Analysts feel that without integration with phone & mobile it will be difficult to reach the double-digit figure for Facebook in India.
With such efforts, activities, investments and collaboration, Facebook seems to be riding high with the future growth of country's economy and internet business for sure.
Report & Images Credentials: Inside Facebook