In today's world when more and more people are getting inclined towards internet or other electronic mediums for informative news or even a literary piece, courtesy the sudden rise of e-books, it seems that Bengali readers have maintained or regained their interest in magazines. Bengali monthly magazines, which had lost about 5.5 lakh readers in the previous quarter, have reported positive growth this time, having added 1.6 lakh readers in Q2. Except in a few categories and languages, magazines overall have seen a dip in viewership in the last several rounds. However, this quarter seems to have spelt some positive news for the magazines.
Bangla magazines, irrespective of periodicity, are amongst the frontrunners in acquiring new readers. For instance, in this quarter, Bengali weekly publications have added 3.12 lakh new readers, in addition to the 2.5 lakh readers added in the previous quarter. Similarly, Bengali fortnightly magazines have also added 1.16 lakh readers in the current round, taking the total readership from 39.93 lakh in Q2, 2009 to 41.58 lakh in Q2, 2010.All popular Bangla magazines such as Saptahik Bartaman (general interest), Anandalok (film magazine) and Khela (sports) have added new readers. "Karmakshetra" is the biggest gainer in the lot followed by "Saptahik Bartaman". While Saptahik Bartaman has added 1.44 lakh readers in the current quarter, after losing 32,000 readers in the previous round, career magazine Karmakshetra has added 2.24 lakh readers taking its readership to 18.28 lakh. Saptahik Bartaman's total readership now stands at more than 10 lakh. "Sananda" continues to be the most read Bangla magazine after "Karmakshetra" and have added 33,000 readers.
Amongst English magazines, monthly magazines acquired more readers than weekly ones. English monthlies have gained 1.14 lakh readers in the current round, after losing 7.88 lakh readers in the previous ones.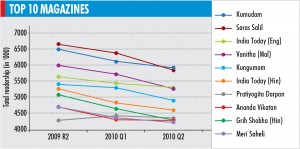 Even English fortnightly magazines have added new readers, though a very small number, in the current round. The total readership of any English fortnightly has increased by 31,000, taking the total readership to 61.15 lakh.On the contrary, English weekly magazines have lost 2.76 lakh readers in the current quarter, in addition to the loss of 1.9 lakh readers in the previous round.Amongst the prominent general interest English weeklies, India Today has again lost more than 2 lakh readers, while Outlook has lost 1.63 lakh readers. The Week has also lost 43,000 readers, while Frontline has lost 24,000 readers.In the English business magazines category, except Businessworld, all lead magazines have a fortnightly periodicity. Business Today, Businessworld and Outlook Money have retained their readers with marginal growths. Business Today has added 10,000 readers, while the other two have added 9,000 each.
Amongst film magazines, Filmfare, which is a fortnightly, has lost 79,000 readers, while Stardust has lost 24,000.
Hindi magazines are worst affected in the current quarter. Hindi fortnightly magazines have lost 8.85 lakh readers, while the monthlies have lost 3.13 lakh readers. The Hindi weeklies have lost 2.57 lakh readers. Saras Salil, the Hindi magazine which was the most read magazine till the last round, has lost 5.76 lakh readers in Q2, 2010. It has also been pushed to the No. 2 position in the recent quarter. Even India Today Hindi has lost 2.29 lakh readers in the current quarter. The few Hindi magazines to have seen growth in readership are Grihalakshmi and Jagran Sakhi – which have gained marginally (62,000 and 35,000 readers, respectively).
However, across languages, the biggest losers have been Malayalam magazines, where decline is consistent across periodicity.While Malayalam monthly magazines have lost 5.5 lakh readers, the weekly and fortnightly magazines have lost 5.2 lakh and 4.57 lakh, respectively. Top titles in this category, Vanitha, Mathrubhumi Arogya Masika, Grihalakshmi, Malayala Manorama (weekly) and Balarama have all lost readers. Vanitha has lost 4.5 lakh readers, while Grihalakshmi has lost 2.5 lakh readers.
Besides, all magazines in the top list have lost readers. The Tamil weekly magazine Kumudam, though replaced Saras Salil at the top position, has lost 2.5 lakh readers. Pratiyogita Darpan, which was the only magazine to have gained readers in the last quarter, has also lost 1.3 lakh readers in the current one.