With growing interest and viewers, Online Video Industry is constantly making its mark in Internet era. However, Online video publishing websites like YouTube, Vimeo has been flooded with millions of Videos and its has become very tedious to find out 'best of Videos' at any given time. Analyzing this scenario, YouTube, an online video publisher, has launched "Charts" which ranks "Top Web Videos" to promises to deliver only the best.
This page whcih keep visitors updated on which videos are trending now, which are all-time classics, how various vids stack up against one another and more. Think of it as the Billboard Hot 100 for the world of web video. This feature will cater to those who may not be willing to explore online video but never mind for something interesting. This feature will provide the timely & popular content across the 'Tube'.
There are multiple criteria based on YouTube Charts filters the Videos. You can have a list of videos that got most views, most views of that day, week, month or all time. You can also filters based on maximum Viewed, subscribed or linked. You'll be able to see the top 100 videos from each list; that means the YouTube Charts will feature 900 videos and channels (likely with some redundancies) every day.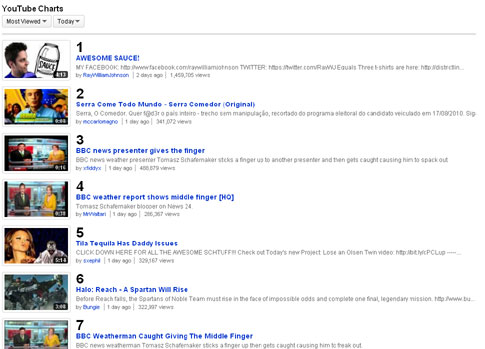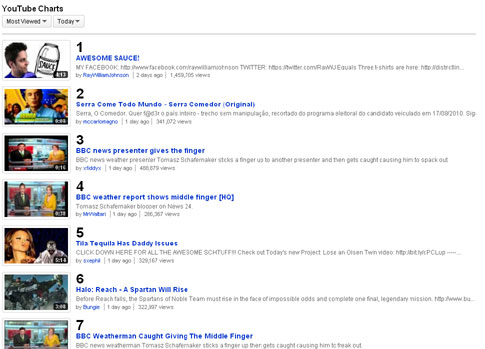 In order to enhance this feature further, YouTube is soliciting feedbacks from the viewers for kind of features they need to integrate and make it much more valuable for all viewers.
It would be interesting to see a new filter for type of content; for example, what's the most subscribed comedy channel this week or the most liked music video today? We'd love to be able to search within the charts, and we'd love to see a Charts API for tracking how videos wax and wane in popularity. And although it might be tricky to get various large tech companies to play nicely with one another's data, it would also be cool to integrate stats from other video sites, as well.
What other options do you think YouTube should add to Charts ? Do share with us in comments section.