Apple's overwhelmed success of iPad has pro-activated many other players. In the last couple of weeks, market expectations have been raised as many companies announced few upcoming products like BlackPad from BlackBerry and Microsoft. Adding joy to competition, an Indian company EC Media (International) Pvt. Ltd has announced another eBook Reader keeping Indian contribution to IT intact.
WINK, as company name its eBook reader, will available in the market from 15 August 2010, as planned by the company. With a mere cost of USD 170/- for its basic model with a six-inch screen, 800×600 pixel resolution company is bullish with Indian prospective customers. Advanced model of "Wink" which has a nine-inch screen, 1080 x 768 pixel with the weight of 430 gm is available for Rs. 22,000/-.
This multifunctional e-reader will support more than 15 regional languages and tech support would be taking care by Chennai based California Software Co Ltd. The company is expecting to sell more than 25,000 readers by end of this year.
EC Media has a tie-up with Ingram, a US-based digital aggregator or warehouse, and has access to at least 100,000 titles from various publishers. It has tied up with publishers including Penguin, Roli and Oxford University Press to upload titles on Wink's portal. It has also independently tied up with Permanent Black, a New Delhi-based publishing company, for four of its titles.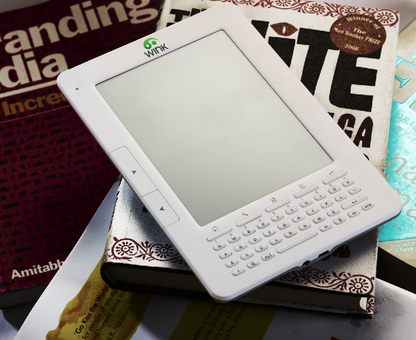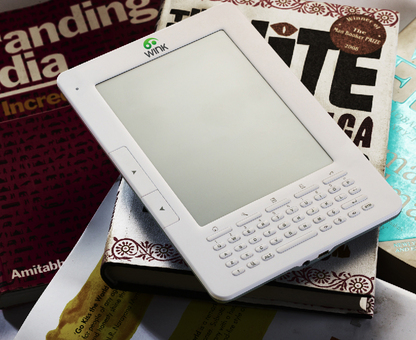 These include A Princely Impostor? The Strange and Universal History of the Kumar of Bhawal by Partha Chatterjee and Finding Forgotten Cities: How the Indus Civilization was Discovered by Nayanjot Lahiri. EC Media will sell the titles at a 25% discount to the market price and 50% of each sale will go to Permanent Black.
In India adoption of the eBook trend is picking up slowly but surely it's going to stay here for long. However, Unlike many other countries i.e. U.S. & U.K., Indians never were fond of reading in mass. Technology diversion and mobility has driven the market towards acceptance of eBooks in the last couple of years which made companies to focus on such mobile devices which stand middle of mobile & laptops.
WINK – What's in it?
Touch Screen with full QWERTY keyboard
16 level gray scale with six and nine inches screen
800 x 600 resolution for basic model & 1024 x 768 pixel resolution for advanced model
185mm (L) x 124.6 mm (W) x 10.9 mm (H) and weighs 260 grams with battery for basic model & 262mm(L)×170mm(W)×11.9mm(H) and weighs 430 grams with battery for advance model
Both Readers can run for 8000 pages and take approximately 6 hours with USB charging from powered Computer or 3 hours when using optional AC charger.
With not-so-open Indian market for eBook, it would be interesting to see the strategy; company adopts to ensure smooth sailing further. Do you think it's a right move and right time for eReader manufacturing companies to set up shop in India now? Do let us know your views in comment section.