Anyone who hasn't been living under a rock would probably hear about the iPhone, Apple's now legendary phone offering that spawned an entire blue ocean ecosystem of handsets, music and applications. They say the sincerest form of flattery is imitation and Google's Android attempted to do just that by providing an iPhone-like OS for 3rd party manufacturers in order to curb Apple's influence and market share in the touchscreen smartphone market.

Unlike the iOS, Apple's mobile OS, Android is much more versatile and can run on various devices of various specifications, built by various manufacturers. The user experience, is there not consistent, unlike Apple's and the hardware that the OS runs on can either delight or disappoint the user. The iPhone has a consistent OS look and feel, but the android version can be tweaked with proprietary interfaces which are usually bundled in the phones by their manufacturers and often sport screen enhancements that are not present in the stock versions.
Coming back to the main article, a slew of very capable smartphones have flooded the market, some of the notable ones being the Motorola Droid, Sony Ericsson Xperia and HTC Evo. Joining the ranks of the SmartPhone elitists comes along Samsung with their flagship Android phone,  the Galaxy S. It comes with a glorious 4" Super AMOLED screen and has a WVGA (480×800 pixels) resolution with 16million colours. This isn't quite as high as the Apple iPhone 4's 960 x 640 resolution, but you'd be hard put to tell the difference, at least with human eyes. The contrast of this screen is excellent and is unprecedented on the colour saturation and black levels departments. Oh! And it does multi-touch too for pinch and zoom.
There's probably the reason that it can be dismissed as an iPhone clone, owing to its dimensions of a sizeable 64 x 122 x 10mm. Curved sides offset the bulk a little and it's a surprisingly lightweight at 119g – a trade-off with the plastic back, which feels a little cheap. The default OS is Android 2.1 (Eclair) and is expected to be updated with the latest version 2.2 (Froyo). As mentioned before, the galaxy has Samsung's TouchWiz interface which can also be found in their Bada based smartphones like the Samsung Wave. The interface has been gradually improving, but still hasn't reached a level of finessee and refinement like HTC's TouchFlo. It's not bad, however. There's a nice daily briefing widget, for instance, which shows top line weather, finance and general news. The customizations features start on the home screen where you have up to seven panes to populate with widgets. You can, however, choose the number of panes in line with your usage.  As a standard Android feature, it includes Live wallpapers,  with which the user can interact with, such as inducing ripples on a pond, via touch. Here's a video from GSMARena highlighting the UI of this wonderful phone :
httpv://www.youtube.com/watch?v=jHXuPHztISQ&feature=player_embedded
On the widgets' front, in addition to the common Android ones, Samsung has 8 widgets of their own which deal with a myraid of common functions such as Times, Calendar, Weather and stocks to name a few, and update their contents when online. The Galaxy does multitasking particularly well, thanks to it's speedy 1 Ghz Hummingbird cpu awhich has comparable performance to other 1 Ghz Snapdragon equipped phones like the NexusOne and Xperia. The 512 Mb of RAM is more than adequate, but the user can use one of the free android task manage to keep better tabs on the memory uasage. The phonebook is excellent with great social networking integration and its a common platform it shares with it's Bada brethren. Android 2.1 gives it multiple account support for email and contact synchronization, including Exchange accounts. It also has some bada originated niceties such as the swipe feature. In the main contact list, a swipe to the right on a name will dial the contact's default number, while a swipe to the left will start the New message interface. The side-sweep thing works in other lists too where you have names or numbers. A more intensive usage of this technology is implemented in the Swype typing capability. This is like T9 for the 21st century. The way it works is that you can type faster by dragging your fingers over the keys of the Qwerty keyboard, like 'joining the dots' with letters to make a word. For example the motion trail shown in the pic spells pit "quick :

There's a little bit of a learning curve to train your finger to remain on the screen. You can capitalize letters by dragging your finger off the keyboard and insert double letters by tracing a small circle on them. After some practise, its intuitive, easy, and  fast.The multimedia functions as expected of a phone of this caliber is terrific. It has 5 Mp camera which takes rather good pictures and capable of shooting HD video at 1280×720. at 30fps. The gallery is amusing with smooth 3D transitions and effects reminiscent of the custom phone-book of SE Xperia,. You could also choose to view your gallery in  grid or timeline view. The gallery supports finger scrolling or panning so you can skip images without having to return to the default view. Just swipe to the left or right when viewing a photo in fullscreen mode and the previous/next image will appear.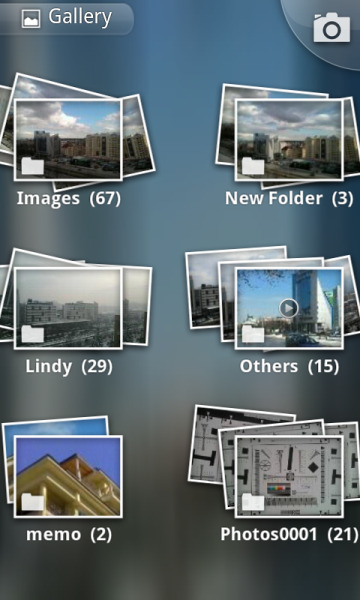 Like the iphone, you can use pinch zooming. Watching videos on this phone is joyous indeed and boasts one of the best video quality in 720p, uncommon for phones in the Google fraternity. There's no TV-Out but there is DLNA support with which you can  stream videos and photos to your DLNA-enabled TV or media player (any PC with Wi-Fi and DLNA software would do as well). Watching videos outdoors is not as bad as other phones, if you use the outfoor visibility setting which boosts the brightness and contrast of the already bright Super AMOLED for better daytime visibility. The music players gives itunes for iphones some serious competition. It has a completely customizable screen views with tabbed sorting options for Artists, playlists, albums etc. In the album view, it offers the user with slick slick 3D inteface featuring CD covers in a carousal style. The interface has options to look up Atrtist and song info and even youtube search results can be directly loded into the flash-lite based YouTube client.  A DJ sort of a controller can be used to control cue/review and volume and it looks cool.
The FM radio features RDS.  Just like the video the audio capabilities of this phone are superb and delivers impressive signal-to-noise ratios and flawless dynamic range and frequency response. The browser is quick and efficient with high-speed Wi-Fi (b/g/n) access or HSDPA network access. It doesn't have full Flash but flash lite which takes care of youtube and other sources. The browser automatically adjusts to landscape or portrait based on the orientation of the phone and the mutitouch screen makes it really easy to navigate. Owing to the snappy processor, it also renders pages quickly and beautifully. On the Office side; hell we all have to get back to work, the ThinkFree Office pre-installed – which is both a document viewer and an editor. It works like a charm and is capable of pinch zooming. Both panning and zooming are fast and the overall performance of the Office package is excellent.
The calendar as is to be expected comes with all the bells and whistles of a modern-day smartphone and has extensive sync options. Another noteworthy enhancement is the My Files app – a simple to use but functional file manager, which also doubles as an image gallery. It can move, copy, lock and rename files in bulk, even send multiple files over Bluetooth. Smartphone nowadays are all about Apps and the Samsung scores on that front with the Aldiko eBook App, a nice substitute of Apple iBooks with pretty much the same functionality (pinch, zoom, bookmarks etc). Other useful apps include Daily Briefing, Memo, Minidiary, Sketch and Video Editor. There are pretty self explanatory. On the Social integration front, which is the hot thing these days, the Galaxy comes bundled with SocialHub, a nice Social N/W aggregation app which works with the usual suspects like Facebook, Twitter, Flickr etc. Ogf course the Galaxy S supports standard Google apps such as Google Voice which works rather well. On the Navigation front, it comes with Google Maps and supports the Street view mode as well. If the Street View is available in the area you're interested in, you can enjoy a 360-degree view of the surroundings. When the digital compass is turned on it feels like making a virtual tour of the location! Another interesting app in this context is the Layar Reality browser. It's a search app enhanced by augmented reality. Your search results for various POIs – gas stations, hotels, parking, restaurants, shops, etc – are returned and displayed in an augmented reality environment using the handset's GPS and camera. Finally you have the Android store, which has thousands of apps ranging from the ludicrous to being excellent. Do I sense Apple breaking into a cold sweat.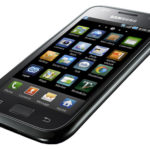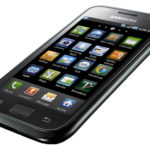 Final Words: There can be little doubt that the Samsung galaxy S provides enough compelling reasons to buy it. Heck! the glorious AMOLED screen is enough to tilt the scales towards a buy recommendation. I would recommend avid business user to probably skip this and go for a phone with a full fledged QWERTY keypad like the Droid, but for every one else you possibly couldn't go wrong with the Galaxy. It just might be worth the while to wait for the next version with Android 2.2 (Froyo) but then considering that we're currently facing a global shortage of AMOLED screens, picking up one while it's still available might make eminent sense.