No matter what Microsoft delivers by its products, company's supremacy always remains intact in the IT world. The joy becomes more meaningful when it comes at the cost on your competitor. Exactly what is happening with Microsoft IE which has regained IE market share from last couple of months, mostly to the detriment of Mozilla Firefox. Seems Microsoft is working hard for major reshape in browser industry.
According to the statistics from Net Applications, Internet Explorer increased its share of the browser market in July by 0.42%, for a total share of 60.74%. Firefox, on the other hand, took the biggest hit: a loss of 0.9%. Google's Chrome browser lost 0.08%, while Safari gained 0.24%.
With this report IE has triggered the trend of reversal to avoid survival challenges. While IE is still the most prefered browser across the globe, it had lost substantial market share over a period of time. However, Net Applications has spotted a trend of recovery for the browser since May. In addition to IE regaining some momentum, Chrome usage has also been soaring. At the short end of the stick though is Firefox, whose market share peaked in April at 24.59% and has steadily dropped since.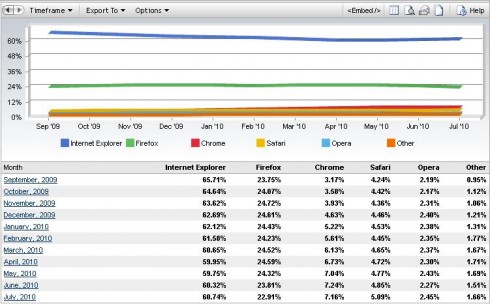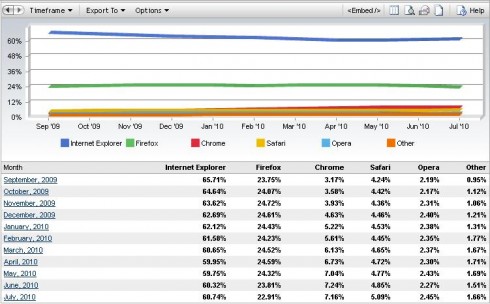 To have the further stronger position, Microsoft is all set to launch IE 9.0 on which Microsoft is working on. with superior features, better hardware compatibility and integration with open standards will make IE much more usable compare to other browsers, once it will be lunched. With the fresh competition from Epic, a newly launched Indian browsers, road is not going to be a cake walk for IE.
It would be interesting to see how other browsers design their strategy to cut short growing popularity of IE. I am sure this will only benefit end users wo can expect much more robust and technically superior web browsers in coming day.
What do you think about browser market share and future impact ? Do let me know your views in comment section.