"Google is not a conventional company. We do not intend to become one." So began the "letter from the founders" penned by Sergey Brin and Larry Page in the company's securities registration form in 2004. Despite ever-increasing commercial success since that date, Brin and Page have kept to their word.
Google is an unconventional company with a huge stake in our online lives. It is a source of fascination for many, including us, but what really happens in the Googleplex? And what cool factoids and stats exist from the company's relatively short past?
Here we bring you 10 fun facts about Google to quench our own thirst for Google knowledge as well as hopefully offer you a distracting diversion from your daily life.
The First Google Doodle
Google's famous homepage "Doodles" (the changing Google logo graphics) are well known and enjoyed by millions around the world as a way to mark an event or anniversary. But did you know that the very first Google Doodle was designed as a kind of "out of office" message?
In 1998 Brin and Page took the weekend off to go the Burning Man festival in Nevada. The Burning Man doodle (shown above), was designed by the Google guys and added to the homepage to let their users know they were out of office and couldn't fix technical issues like a server crash.
Interesting Figures from the Google IPO


While the initial price for Google's stock at its Initial Public Offering in August 2004 is an interesting stat in itself, there's more to the story. The opening price for Google's stock was $85 per share. At the time of writing, the stock price was $483 but has soared as high as $600 in the past year, making GOOG a rather nice investment for many.
A bonus factoid from Google's IPO process is the value Google stated it hoped to raise on its S-1 form — as much as $2,718,281,828. It may just look like a string of numbers to non-mathletes, but 2,718,281,828 is actually the first ten digits of the mathematical constant ""e"," showing that even as their company was planning to go public, the Google guys could still geek out with a bit of numerical humor.
The First Google Storage Was Made From LEGO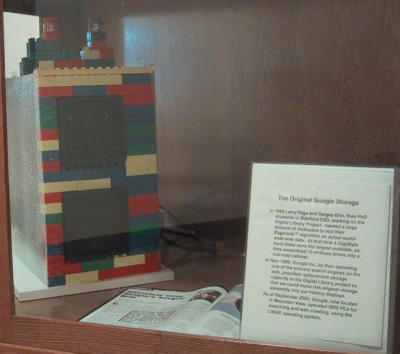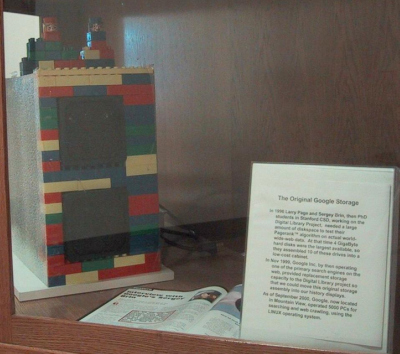 As proud hosts to Google back when it was still a research project, and known as "BackRub," here Stanford now showcases the original Google storage from way back in 1996. It's made up of a whopping 40 GB (less than a modern iPod) and it's made from, as fans of the building bricks will be delighted to see, LEGO. It even hash funny mini-figures on the top.
Legend has it that the reason for the LEGO construction was that the Google guys needed an easily expandable, and cheap way to house 10 4 GB hard drives, and LEGO fit the bill. Whether the primary colors of the bricks used were the hues that went on to inspire the Google logo's design is up for debate, but we'd guess it wasn't just a coincidence.
Google's First Ever Tweet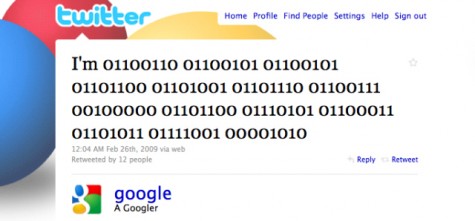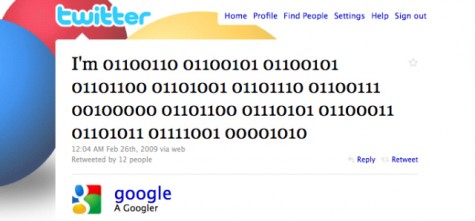 Google's first ever Twitter post was as satisfyingly geeky as you could hope for. The message, sent in February 2009, reads "I'm 01100110 01100101 01100101 01101100 01101001 01101110 01100111 00100000 01101100 01110101 01100011 01101011 01111001 00001010."
For anyone not fluent in binary, here's a hint — it's a well known phrase from the company's homepage. Got it? Yep, it reads: "I'm Feeling Lucky."
Google Has a Company Dinosaur
By all accounts, there are many wondrous sights to be seen at the Googleplex, but one of the most arresting is surely the gigantic T-Rex skeleton — nicknamed "Stan" after a "real" dino found nearby — that looms menacingly at Googlers in Mountain View.
Joining Stan in the unique campus decorations is a scale replica of the SpaceShipOne, enormous Android ()-themed models, pink flamingos, a large LEGO man, Google-colored phone boxes and grown-up size ball pits. One thing seems for sure — just like the company itself — life at the Googleplex must be far from dull.
Credentials: Amy Mae