World Cup fever pushed the Internet to a new record on Friday, according to measurements from Akamai.
Traffic to news sites globally started a steady climb about 6 a.m. Eastern time and peaked six hours later at noon, reaching nearly 12.1 million visitors per minute.
The traffic dipped going into the afternoon but stayed well above normal. The figures suggest that the Internet was most active during the Mexico-South Africa game and stayed heavy through the France-Uruguay game.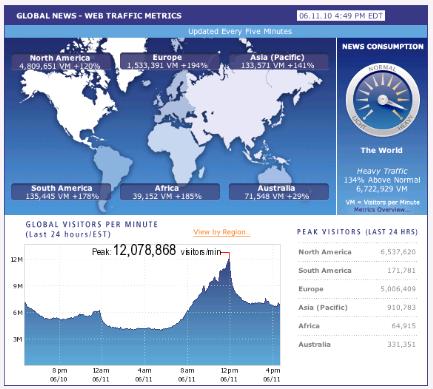 The day's traffic far exceeded the previous record of 8.5 million visitors per minute, which was set when Barack Obama won the U.S. presidential election in 2008.
As of Saturday afternoon, Web traffic to news sites was still heavy at 5.7 million visitors per minute.
Credit : Akamai