Twitter TV Gets Cozy With Media Companies!
By Shilpa Shree on January 12, 2013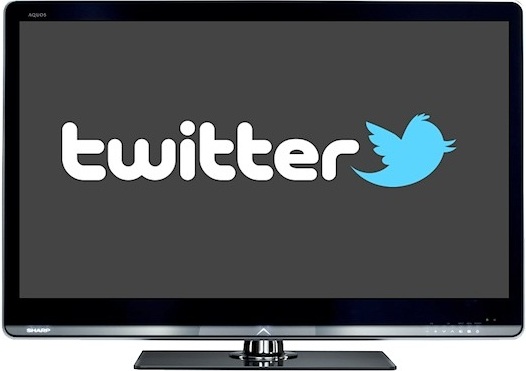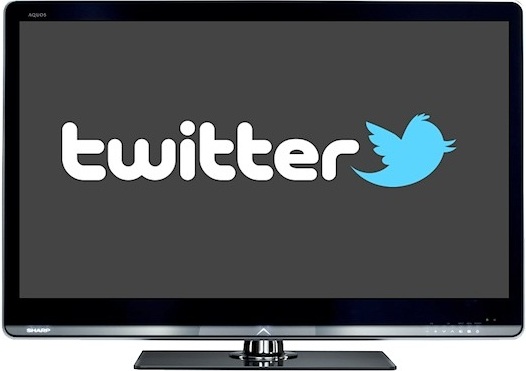 Surely, Twitter is planning something new to do this year; yes the recent activities of Twitter have proved it's interested to position itself in the entertainment sector as well. The recent report of Twitter emphasized on tweeting habits of users while watching television in the U.K. Twitter has released a twenty-page booklet (Twitter TV Book) for advertisers on trends in watching TV and Twitter usage in the U.K.
The report consist of the tweeting habits of the users on social network's, bifurcated by age, sex, usage, device and etc. The study also included how the TV programmers drag the audiences and engage with them. It highlights on the significance of social networks on media companies, breakdown of TV programs, suggestions on managing engagement of users on Twitter. The Twitter report reveals that 60% in 10 million active users tweet while watching a television program in the U.K. It's also been noticed that the 40% of Twitter traffic during peak time is about television also, teens tend to tweet from the desktop while viewers above 30 are more likely to tweet from mobile. Few interesting news programs/documentaries drive conversation for hours after the broadcast and few contradict lines on TV reality shows draw more engagement on this site.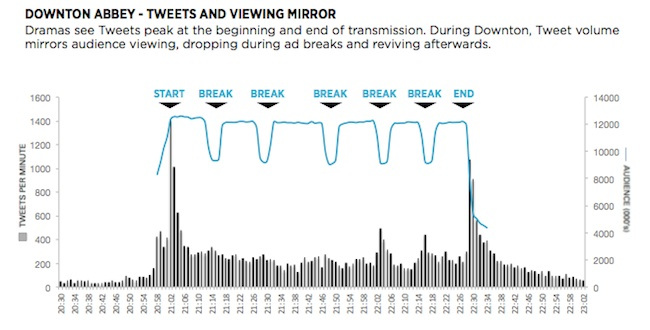 For "Downton Abbey" show, Twitter use fell off during commercial breaks, on the contrary, for "Mission Impossible", tweets peaked on breaks. If Twitter wants to munch money on this, it has to distribute ads in such a way that its more effective, engaging and wise.
This data proves to be a great help for advertisers. Twitter has just released this data confined to the U.K. what if it wants to crunch data for country to country? As we see there is so much fluctuations from a program to another in-terms of user behaviors in engagement during TV show, ads etc.  Will Twitter TV be confined only to U.K?
Twitter is not so aggressive so far but we can expect its aggressiveness this year, this step is still the starting point. The future of social TV, in my opinion is all about good content. The rise of social media on the internet has changed the way companies interact with their fans or customers. There's more value now in social metrics to drive content decisions. For program to program there is lot of transformations in the level of engagement during TV show, ads etc; what if it has to crunch data from country to country? Will Twitter TV confined to U.K only? Also, to munch money on this Twitter has to distribute ads in such a way that its more effective, engaging and wise.
Hi ,I'm shilpa shree b.n , did my msc in multimedia technology and now walking towards the success path in content editing at dazeinfo , which basically deals with the insights and analysis of technology , social media , mobile and so on...
Related ItemsTVtwitterTwitter TV book
January 12, 2013
Twitter TV Gets Cozy With Media Companies!
Daily eNewsletter

Advertisement

Latest Posts

Advertisement

Polls

Loading ...

SPONSORS
About Dazeinfo

Dazeinfo is a leading technology, media and marketing Internet property which is focused on market intelligence, advisory services, strategic consulting and communication design for information technology. We specialize in Smartphone, Social Media, Internet and the Gaming Industry. Dazeinfo helps IT professionals, business executives and the investment communities make fact-based decisions on innovative yet effective technology adoptions and business strategies. For more than 2 years, Dazeinfo has provided strategic insights to help our clients achieve their key business objectives.

Subham Bapna | March 30, 2015
Pritha Bose | March 30, 2015

End-User Spending On Cloud Services To Reach Almost $250 Billion By 2017 [REPORT]

Neeraj M | March 29, 2015

Top Tags
Copyright © 2015 Dazeinfo, Inc., powered by Wordpress.