Indian Telecom Subscriber Base Dropped To 937.7 Million By September 30: Despite, The Month Was Lucrative In Terms Of Active Subscriber
India is the world's second largest country in terms of mobile subscriber base, despite of this, its telecom subscriber figure is declining month-over-month. According to TRAI's new report, Indian telecom subscriber base (wireline + wireless) reached to 937.7 million at the end of September 2012, down by 1.87 million compare to the previous month. Number of Wireless and wireline subscriber plunged by 1.74 million and 0.13 million respectively by September 30 compared to the previous month. However, rural wireless subscriber base surged in September by 1.70 million compared to the previous month. Ironically, wireline subscriber base has steadily been declining in both urban and rural India. Despite, the teledensity of the country reached to 77.04 by the end of September 2012.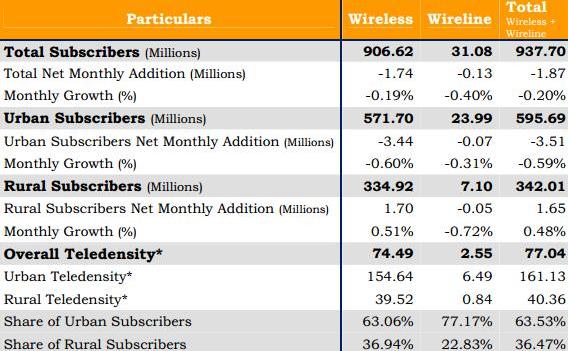 Apparently, awareness towards mobile portability has been increasing since the last year, and the requests for the number portability increased from 64.92 million at the end of August 2012 to 69.78 million at the end of September 2012. At present, telecom vendors are concerned with average revenue per user that depends on active subscriber base. TRAI has reported 698.96 million active wireless subscribers as of September 30 in the country—a 77.1% of total wireless subscriber base.
In terms of overall telecom density, Delhi was at the top with the telecom density of 232.66 at the end of September this year, followed by Tamil Nadu, Punjab and Himachal Pradesh with 116.37, 106.32 and 105.9 respectively. In comparison, Bihar was at the bottom with a teledensity of just 44.73 by the end of September this year.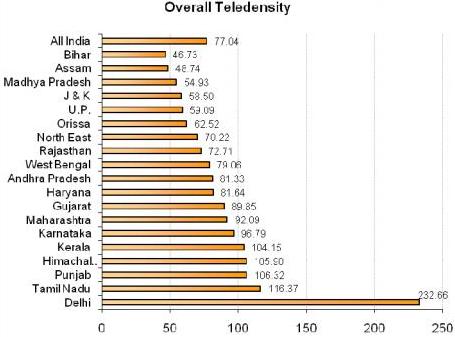 As usual, private operators hold 88.43% of the wireless market share in terms of subscriber base at the end of September 30, whereas PSU operators (BSNL and MTNL) could hold 11.57% market share. Bharti Airtel led the market with 20.51% market share in terms of subscriber base by the end of September 2012, followed by Vodafone, Reliance and Idea with 16.84%, 14.87% and 12.74% share respectively.  On the other hand, BSNL and MTNL succeeded to grab 10.99% and 0.58% market share respectively by the end of September this year in terms of subscriber base.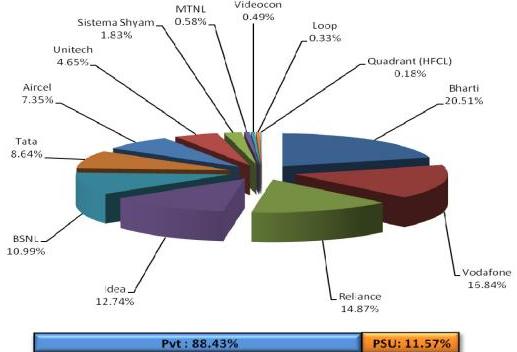 Furthermore, just five telecom vendors could entice subscribers in September this year and Aircel, BSNL and Reliance were among top gainers. Interestingly, subscriber base of Bharti, Vodafone and Idea dropped in September this year. See the stat below: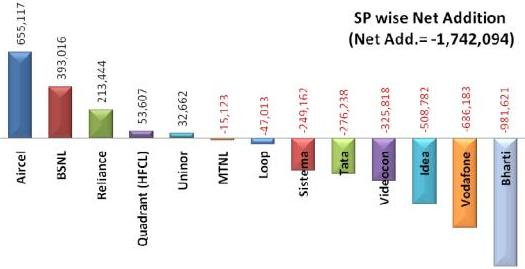 Moreover, out of the total 906.62 million wireless subscribers, 698.96 million were active and also, VLR (visitor location register) in September 2012 reached to peak. Maharashtra had the highest proportion of VLR subscribers with 84.71% , followed by J&K and Madhya Pradesh with 84.55% and 81.99% respectively.
Over last few months, telecom subscriber base has been declining in India due to telecom regulators' new strategy. However, the new strategy has been implemented in order to improve ARPU (average revenue per users) for telecom operators. More importantly, active subscriber base has been increasing month-over-month. The revenue of telecom vendors is determined by active subscriber base rather than bogus subscribers those own multiple SIMs.